Hi, I'm Margaret, here with my dear friend and sage, Ben.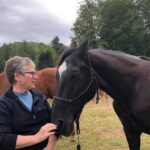 My earliest introduction to the horse-human connection was with children and adults at a therapeutic riding facility in Dallas, TX.
As a volunteer, my role was to support the rider as a horse leader, on a lead rope, while the rider participated in a group activity on horseback. Most riders had a physical disability of some sort which required volunteers to support them physically and to keep them safe while on horseback.
It was during these sessions that I witnessed the powerful connection between horse and rider like I'd never seen within the Jumper Circuit and Dressage world of able bodied riders.
Horses that I knew to be energetic, forward movers would become thoughtful, quieter, when presented with a child or adult with a disability on their back. They acted as if they knew "I need to take care of this one". Horses that would normally prance and step aside from a mounting block for an able-bodied rider would slowly approach and stand perfectly still while a young rider was mounted on their back.
The true power of this experience was revealed when the child would dismount, and horse and rider had a moment of true authentic connection. No words were spoken but the power of the connection was felt by all who witnessed it. Pure joy was on everyone's face (including their trusty steed).
The horse-human connection developed over the course of weeks of time in the saddle and its impact on the daily life outside the arena was remarkable. By the end of the series of sessions, it was the parent or guardian that expressed such joy and gratitude for the experience of witnessing this connection with the horse and how their little rider had grown in confidence, in physical strength, in expressing their needs and desire to do more with the horse.
My takeaway from participating in therapeutic riding sessions was profound:
More people need this connection to improve the quality of their lives, whether or not they live with a physical, mental, or emotional disability.
It is now my purpose and passion to promote the wisdom of the horse and their innate capacity to help humans grow, thrive and become leaders in their own lives.
I have trained and practiced as an equine assisted coach, and developed workshops and training for new coaches within the equine assisted learning (EAL) industry.
Developing a thriving coaching practice requires business smarts, so I participated and mentored entrepreneurs in business boot camps that set a strong foundation for a coaching business.
Today, I help EAL practitioners develop a new business, grow and expand their current services, with my consulting and marketing plans.
With a solid business foundation and customized marketing strategy, your message and services will reach more people, secure more clients and have a greater impact on the world.
Time is money and your expertise lies in the arena! Let me take on the business of marketing your message.
Together we can make a difference. I look forward to being of service.
Margaret J. Wilson, M.S. Mobile: 303-669-0327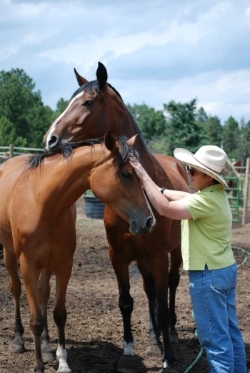 Email: [email protected]                          Website: www.equinemarketingsolutions.com